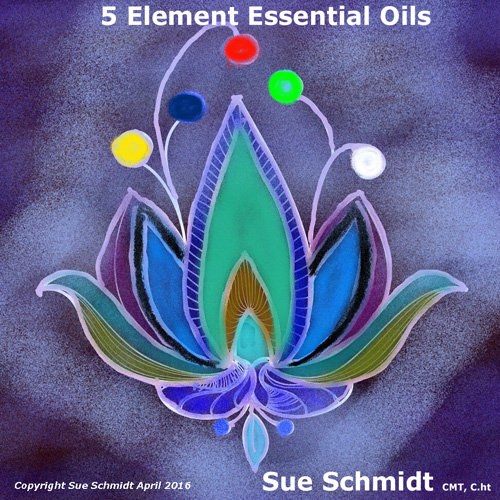 5 Element Essential Oils
100% Pure Essential Oils in Organic Jojoba Oil
Custom blends created by Sue imbued with positive energy for therapeutic benefits and beautiful fragrance
I had a dream a few years ago that I was standing in the aisle of a health food store gazing at a line of essential oil bottles. In the dream I thought, "I should blend essential oils. It would be fun." Happily.........I starting blending essential oils about a year ago and it is fun!
I create my own blends using Wyndemere Naturals essential oils. I use 100% Organic Jojoba oil as the carrier oil. Once the oil has been blended, I hold the bottle between my hands and with positive focus and intention, imbue the oil with the qualities I wish the oil to transmit.
I've created a line of oils for my massage practice that enhance, strengthen and balance each of the 5
croll Down to See All the Oils and PerfumesElements. The oils in each blend benefit the organs and meridians associated each the element, as well as the emotional and spiritual principles of the element. We absorb the therapeutic properties of the oils through our skin. Our limbic system is activated through our sense of smell thereby eliciting the emotional tone desired and we come into alignment with the vibrational properties of the oil for healing and relaxation.
Beauty and therapeutic value combined is my goal. First and foremost, I want my oil blends to smell good! They can be used as perfume, (always test for sensitivity), inhaled, used in the bath or diffused.

So browse and enjoy!
Sue Schmidt CMT, C.Ht
mindpowersue@gmail.com
www.healingmeditations.net